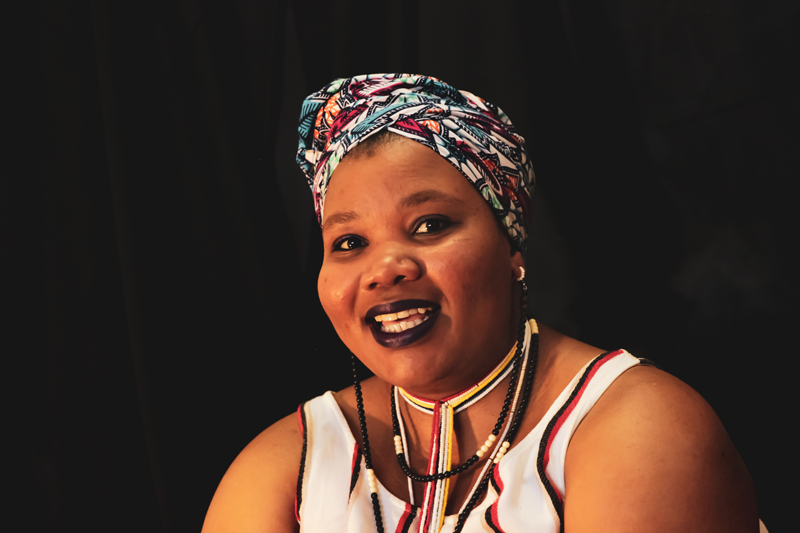 Hear My Voice and the Göteborgs Litteraturhus (Gothenburg House of Literature) are proud to announce South African writer vangile gantsho as the selected candidate for the writing residency in Gothenburg, Sweden, which has just recently been designated as a UNESCO city of Literature.
The residency, hosted by the Göteborgs Litteraturhus (Gothenburg House of Literature), will see vangile travel to Gothenburg from the 14th until the 28th of November 2021. She will spend 2 weeks developing new work, collaborating with peers, performing and facilitating workshops amongst other activities.
"As a healer and poet, I am interested in art that explores a deep listening for what is unheard and essential for the restoration of the black feminine. Perhaps as an act of spiritual excavation, I wish to explore intergenerational conversations, as they are carried in dreams, language, ritual and blood memory. I hope to collaborate with black Swedish creatives in search of the collective unheard. I am searching for our great grandmothers and asking them to heal us". - vangile gantsho.
The residency is made possible by the AIR Literature Västra Götaland residency program and is also supported by Hear My Voice.
About vangile gantsho
part water. part dream. part impepho. vangile gantsho is a healer, poet, publisher and unwavering advocate for the revival of the Black Feminine. As a teaching artist, she has travelled the continent and abroad for literary events, festivals and residencies. gantsho is the author of two poetry collections: Undressing in front of the window (2015) and red cotton (2018), and holds an MA from the University Currently Known as Rhodes (2016), where she is also a part-time lecturer. She was named one of Mail & Guardian's Top Young 200 South Africans of 2018, and her work has been published in various literary publications, including Wild Imperfections (2021), New Daughters of Africa (2019), The Atlanta Review (2018), New Coin (2017 + 2018), New Contrast (2017) and Illuminations (2017). As a producer, gantsho has facilitated the staging of multiple poetry plays and online festivals, including the impepho press Women of Words Poetry Festival (2020), a virtual World Poetry Day (2020), and co-curated the SA programme of Unbound International Spoken Word Festival (2020).
About AIR Literature Västra Götaland
AIR Literature Västra Götaland is a residency program run by the Administration for Cultural Development. It is aimed at writers and translators from all over the world. The goal is to provide space and time for artistic development by offering residences in several places in the Västra Götaland region. The residence takes place through residence scholarships and focuses on artistic research work and provides opportunities for inspiration and in-depth study. The stay must also be anchored in the conditions of the place and the wishes of the host place.
About Göteborgs Litteraturhus (Gothenburg House of Literature)
Göteborgs Litteraturhus is an organization as well as a public space. It is a self-organized framework with over 60 members consisting of literary organisations and groups; publishers, literary magazines, creative writing communities, festivals, Swedish writers' union and Swedish Pen, groups of cultural activists and students. Göteborgs Litteraturhus presents a broad public programme of literary and social activities and engages in a wide range of different collaborations on a local, regional and international level. To Göteborgs Litteraturhus the definition of literature – how it can look, sound, work and what it can do – is emphasized as an open question.
About Hear My Voice
Hear My Voice is a non-profit organization based in the City of Tshwane, South Africa. Their focus is developing spoken word artists as well as creating open and uncensored platforms for self expression through spoken word poetry. They achieve this through organizing local and international exchange programs, workshops, live spoken word shows, open mics and other literature programs for schools, private companies, government, libraries, festivals and other cultural institutions.